I don't consider this review to contain "spoilers" because the historical people and events this film is based on are common knowledge. If you do not wish to know what happens in the movie, you can skip the synopsis.
I have only recently discovered the wonders of
Netflix
, and I've created a sizable dent in their classic film collection since I joined a few nights ago. The first film I watched was "The Young Victoria".

Emily Blunt plays Alexandrina Victoria
Unlike the young, inexperienced queen seen in this film, most probably remember HRM Victoria as the dowdy and somewhat cross-looking widow Queen of England, whom you learned about in history class:
HRM Queen Victoria on her Golden Jubilee
The story begins with an overview of Victoria's youth, oppressed by her position as the only living heir to the throne. Her day-to-day life is completely controlled by a set of strict rules - called the "Kensington System" - designed to keep her safe but ultimately extreme in nature. The young heiress presumptive was not even allowed to go up or down stairs without holding the hand of a servant or companion.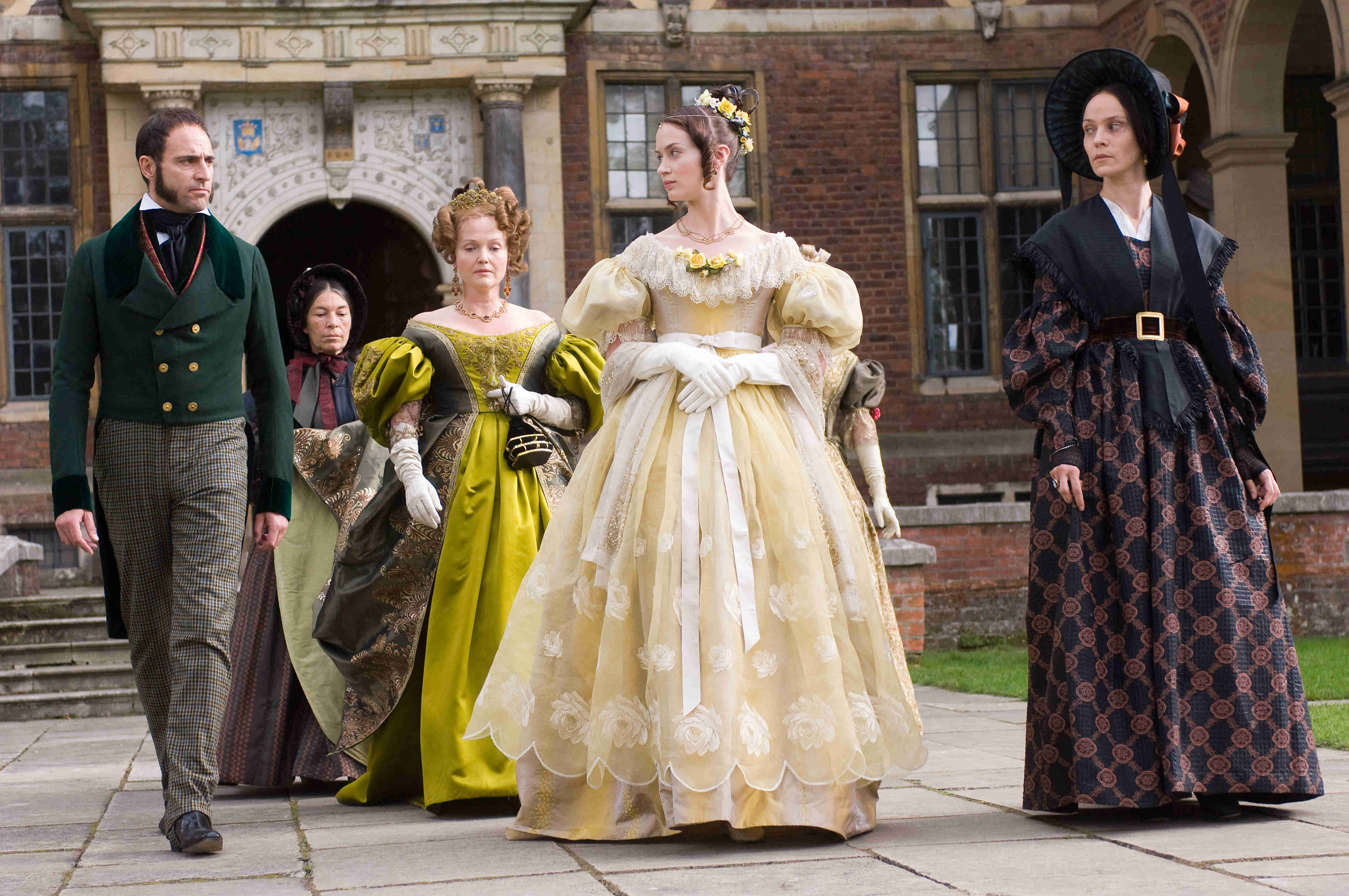 Victoria exchanges sideways glances with Sir John Conroy (Mark Strong), who helped her mother, The Duchess of Kent (Miranda Richardson, in green) develop the Kensington System. He was also allegedly her lover.
Victoria's 18th birthday arrives and a Regency is avoided, just in time for the death of
King William IV
a few short months later. Just like that, the young woman found herself queen. In the midst of political intrigue involving questionable advice from Lord Melbourne (then
Prime Minister
of Parliament), and her family vying for political favor, she is introduced to Prince Albert of Germany. The connection was almost instant, and historically genuine, which makes this film all the more compelling.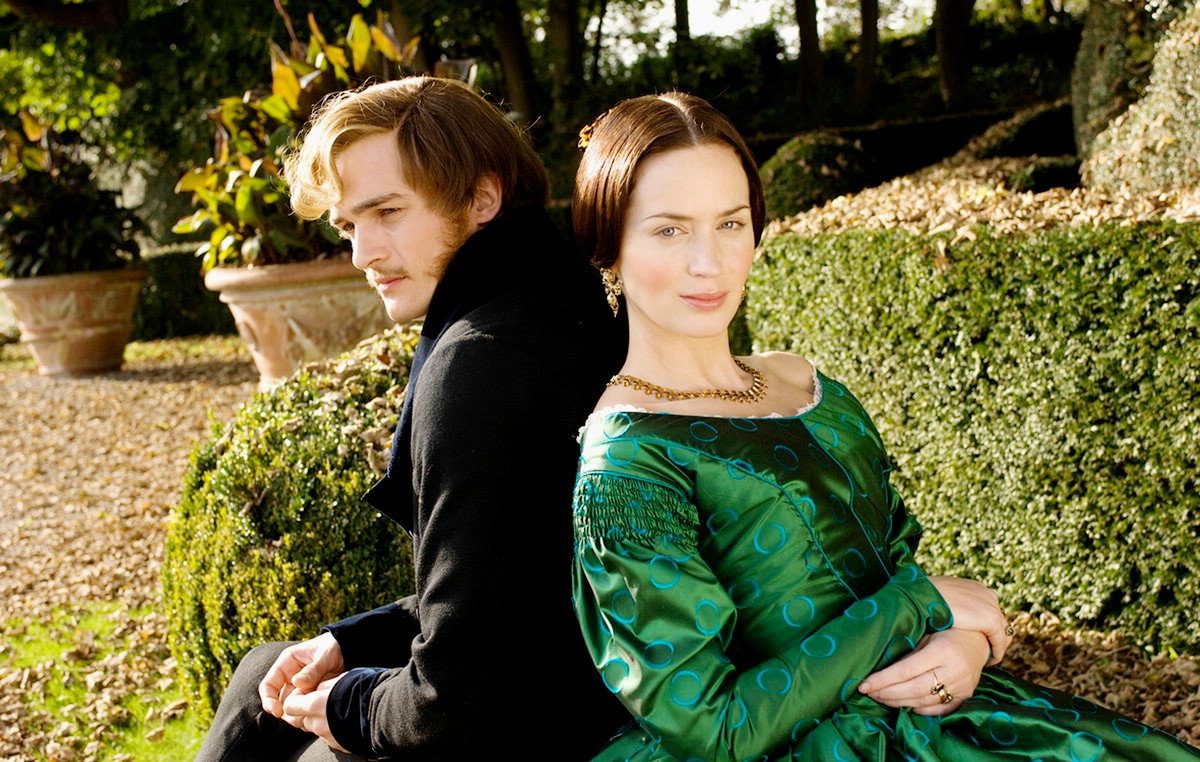 Blunt and Friend as the infectiously charming Royal Couple.
Both Emily Blunt ("The Devil Wears Prada", "Sunshine Cleaning") and Rupert Friend (The hunky military officer from "Pride and Prejudice") did an excellent job portraying the Royal couple. The entire cast played out the time period very well, avoiding the somewhat contrived period settings in some movies. Screenwriter Julian Fellows is known for creating authentic but natural period dialog - he also wrote the screenplays for "Gosford Park" and "Vanity Fair". My only complaint regarding the authenticity of the film has to do with the scene in which Victoria goes to inspect the "newly-built"
Buckingham Palace
. Well, the palace looked pretty much as it does today. I would have liked to see some digital magic to make the stone walls look new.
Blunt wears a fabulous suit in this scene. I also love the top hat!
Needless to say, the costumes were phenomenal. Sandy Powell ("The Other Boleyn Girl", "The Aviator", "Shakespeare in Love") won a BAFTA award for her designs - I've found rare concept art for the costumes in the film. Finding these is always one of my favorite things. I've shared some of them below.
All credit for this work goes to Sandy Powell and/or her illustrators. These images are not my work and are used here for educational purposes and not for profit.
The character of Queen Victoria is an easy subject to lend interest to, since she has so much draw already. Aside from her role as Queen, Victoria singlehandedly shaped the fashions of the later 19th century. When she married Albert in 1840, she wore a white gown. This seems quite normal to us, but at this time the white wedding gown was not the norm. Women wore a variety of colors to their weddings. Victoria's choice of color, though, suddenly became the most popular choice for the nobility and now is the traditional wedding color.
Victoria and Albert's wedding, painted by Sir George Hayter
She and the Prince Regent worked to draw attention to the working and living conditions of the lower classes, and the more "sober" fashions of the 1840s onward reflect this move from romantic idealism to realism. Hemlines dropped back to the floor and long sleeves and high collars became commonplace. Furthermore, when Albert died in 1861, she entered a state of mourning that she would keep until her death. Her black, modest wardrobe influenced Victorian English fashions and lifestyles. If you think the English are sober now, imagine what they were like under a widowed queen.
Victoria with three of her grand-daughters. I can't imagine spending time with her as a child would have been much fun...
I highly recommend this movie to anyone who is a fan of the costume drama genre. It is also a greatly romantic film, but without the excess of mush that some of these period films have. The story and dialog are light and genuine, despite the often tense political and relational conflicts going on on-screen. A+!
From left to right: Paul Bettany as Lord Melbourne, Richardson, Blunt, Friend, and Jim Broadbent as King William IV
God save the Emily Blunt!
Nostalgically Yours