As promised in my
Preview Post
, this portrait was a project I've been working on for a while. You can see a thumbnail sketch in the preview post. As you already know I love anything old-fashioned, and I especially love the portraits of days gone by. Unlike modern photography, the portraits of yore were really big deals, and were reserved only for the wealthier classes. Portraits were considered a status symbol, and were hung in important places in the stately homes of the past.
Beau Brummell:
THE premiere Regency Gentleman
Anyway, to make a long story short, I decided to draw myself as a Regency Gentleman. If this makes sense to you, then by all means skip to the picture.
For those readers that don't know, the Regency Period is a broad term used to describe the fashion, architecture, literature, and culture of the years between the
French Revolution
in 1789 and the ascent of Queen
Victoria
to the British throne in 1837. Personally, I cut off the
Regency period
at 1820, and call the period between 1820-1837 the Romantic period, but that's getting a bit too specific. The Regency Period is most recognized and remembered through the works of
Jane Austen
. She wrote most of her works around 1800, and her novels (including Pride & Prejudice, Sense & Sensibility, and Emma) have become indelibly linked with this period.
The Regency Period for women was defined by a high waistline, light flowing fabrics, and a generally militaristic and masculine silhouette in outerwear. The corset was less rigid than those of the prior centuries, and was intended only to soften the woman's curves, highly visible under clingy gowns. The bust was also lifted and separated by a wide busk in the front of the corset.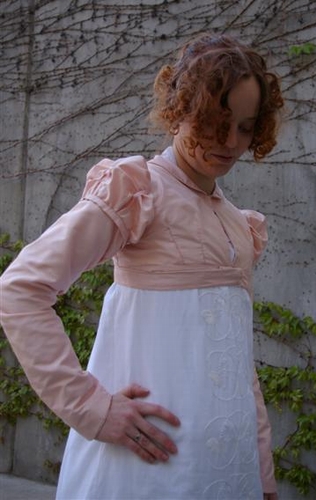 A Spencer Jacket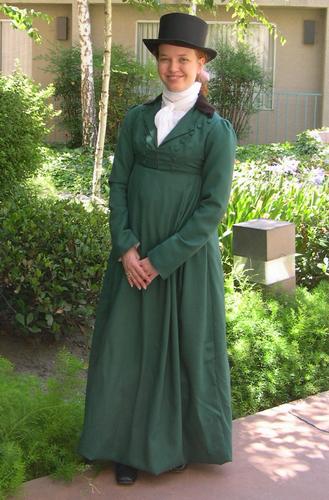 Ladies' Riding Habit
Two corsets of the time, one with busk
Menswear saw the creation of the modern suit. The collar was high and stiff, and was worn with intricate cravats the ranging complexity of which marked a gentleman's social standing. After the French Revolution, looking rich was not only a fashion faux-pas but could be dangerous. This made wearing jackets, pants, and vests of different colors quite popular. Also, thanks to the influence of philosophers such as Rousseau, the country became the place to be and equestrian styles dominated. This was also the time of Beau Brummel (expect a post on him).
The only Darcy that will ever have my heart...
Do we really need another menswear picture?
Since I love this period so much, I chose to use this as the setting for my first self-portrait. I've always thought I'd look dashing in a high collar and cravat - don't you agree?
How do I look?
Hope you liked it, and expect my review of Project Runway later today!
Nostalgically Yours
Some more interesting links on Regency Fashion:
Regency Era Primer
Distinctions in Regency Dress: Full, Half, and Undress
Spencers, Pelisses, and Cloaks: Women's Regency Outerwear
Photo Credits:
Beau Brummell:
Jane Austen's World
Women's Costumes:
The Fashionable Past - Katherine's Costume Site
Busk Corset:
Egg-box Marketing
Colin Firth as Darcy:
51 Degrees North